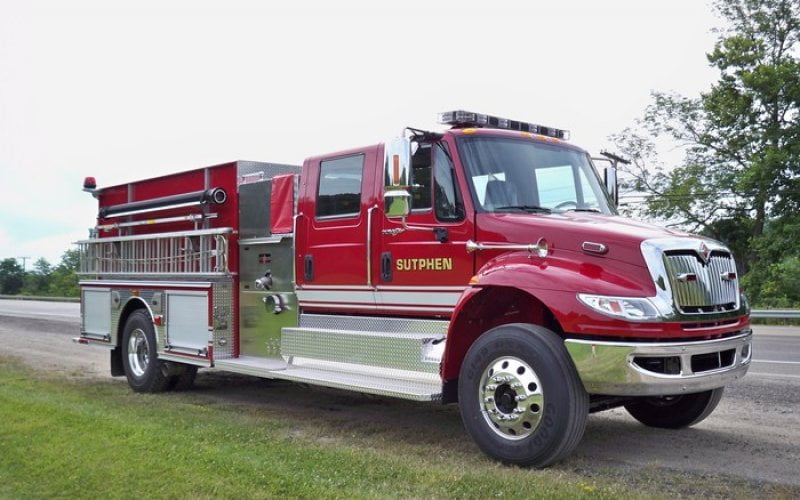 More Trucks
When you need custom quality at a commercial price, the Sutphen C Series is the right choice for you. Designed to provide maximum firefighting capability at a more economic cost, you don't have to sacrifice functionality for affordability.
The Sutphen C Series is available in 5 different body styles featuring heavy duty extruded aluminum construction and the heaviest body structure in the industry. Sutphen is also proud to be able to offer fully custom bodies, in aluminum or stainless, and full custom pump module options on a Commercial Chassis.
Hale, Waterous, and Darley Pumps Available: This gives the department a choice when it comes to picking a pump that they are familiar with and prefer.
Up To 266 Cubic feet of Compartmentation: Gives you all the storage space that you need to customize the equipment locations to be as efficient as possible. Large full depth compartments 27" deep versus most at 25" to 26" deep add to the versatility of storage possibilities.
Aluminum Extruded Body: Strength and longevity are built into every Shield Series pumper body. At the heart of that is the 3/16" aluminum extruded frame to which 3/16" aluminum plate compartment interiors are fabricated and attached. The extruded body is stronger than a fabricated body and the 3/16" plate is thicker and stronger than the competitions 1/8" thick. The compartment walls feature smooth aluminum which highly reflects light and is maintenance free requiring no painting.
ROM Roll -Up Doors: Are standard on all Shield pumpers and have been proven across the industry, for many years, to withstand years or though working conditions. Due to Sutphen's extruded body frame these doors seal better and feature a double gasket.
Heaviest rear body sub-structure in the industry: The foundation of the strength of the pumper. Spaced away polished extruded aluminum steel rub rails providing true rub rail protection – less corrosion at seams.
500 to 1000 Gallon Water Tank: Whether for City or Rural environments the Shield Series Pumpers offer water tank sizes to fit your needs.
Seating for up to 5: The C Series is available in a two door 3-person cab or a 4 door 5-person cab.
Air Bottle Storage: With configurations available for up to 7 air bottles to be carried and stored on the apparatus at all times. You can rest assured that your C-Series pumper will always have a ready supply of breathing air on board for even the most demanding calls.
Ladder Storage: Whether you want enclosed ladder storage, fixed ladder racks, hydraulic ladder racks, or electric ladder racks. The Shield Series of pumpers has an option for you. Additionally Sutphen provides as standard mounting for hard suction hoses.
CHASSIS:
International 4400 and 7400 (4×2), 2 or 4 door, and 7400 (4×4), 4 door
Freightliner M2, 2 door or 4 door
Front Axle and Suspension 12,000 lbs.
Rear Axle and Suspension 26,000 lbs.
12" bumper standard, optional 20" extension.
Engine Options (Dependent on Chassis): Maxx Force 330 HP, or Cummins ISC 330 HP
Transmission: Allison EVS 3000
167-200" Wheelbase (depending on body and pump module configuration)
PUMP: Hale or Waterous
1250 to 1500 gpm
Standard Pump Equipment: (1) 6" inlet each side and (1) 2.5" left side, (2) 2.5" discharges left, (1) 2.5" discharge right, (1) 2.5" discharge right rear, (2) 2" crosslay
Brushed finish stainless pump panel
500-1000 gallons poly water tank
BODY: Sutphen
3/16" Extruded Aluminum, Huck bolted to the chassis frame
Five (5) body configurations to choose from
Up to 266 cu. ft. of useable compartment space
ROM roll up doors, painted or brushed finish
Alco-Lite ladders
Additional Options:
EMS/storage cabinet options in the cab
Hose storage, front suction, front discharge options in the bumper
Multiple pump inlet, discharge, and crosslay options
Foam system and CAFS options
Generator options up to 10 kw
Numerous electrical and scene lighting options