Fire Truck Manufacturers
Heavy-Duty
As expert fire truck manufacturers, we don't believe you should be forced to sacrifice quality and durability for lower cost. That's why when you purchase any Sutphen custom fire apparatus you get the highest quality heavy-duty custom truck available, no matter what. From our limited option program trucks, to our most complex Industrial Aerials, and everything in between, Sutphen is heavy-duty all the time.

Featured Demo Apparatus
"I want to commend Drew and Julie for their leadership and commitment to our continued success.  They have taken the products and company to new heights. I am very proud of them and I know that the company and name 'Sutphen Fire Apparatus' are in good hands for many years"
– Thomas C. Sutphen 1925-2015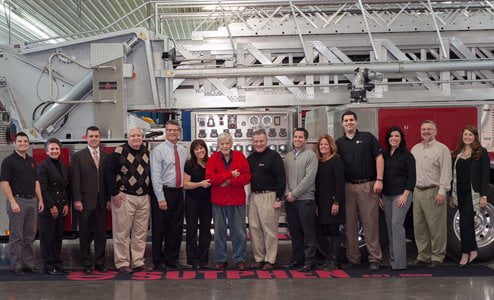 Deliveries
Latest News
Alliance for American Manufacturing | March 12, 2021 By: Jeffrey Bonior Firefighting is often a family affair. Long shifts at the firehouse produce a brotherhood among firefighters, and it's common for generations of individual families to don the uniforms and helmets of America's brave firefighters. But family ties are not restricted to the men and […]
Events
Tulsa, OK | May 13 – 15  Join Sutphen experts and dealers in Tulsa, Oklahoma, at this year's John F. Futhey II State Fire School Show. Stop by our booth to talk with our experts and view the most reliable and most versatile apparatus in the industry. We look forward to seeing you there! https://www.osfa.info/events
Pittsburgh, PA | June 5-6 The Pittsburgh Fire Rescue & EMS Expo is one of the nation's largest and best attended trade shows for firefighters, paramedics, EMTs and other emergency services personnel. The Expo brings together the nation's finest companies together to showcase thousands of products and services. Join Sutphen's experts for an in-person look […]
Caring for Yours
We truly have a passion for the fire industry, and we care about those who serve.  It is our duty to build the safest and best apparatus on the market to ensure that you make it home to your loved ones at the end of your shift.
Jobs & Careers
Experience the pride and passion that come with serving first responders each and every day. We are currently hiring at Sutphen facilities in Dublin, Urbana and Hilliard, Ohio, as well as our Lake Ariel, PA, location. Click below to apply today!
A Valued Heritage
As we reflect on the past 131 years, Sutphen looks forward to an exciting future of continued growth and change within the fire service. We are proud to remain Strong, Stable, and Committed to the Fire Service Since 1890.