Fire Truck Manufacturers
Heavy-Duty
As expert fire truck manufacturers, we don't believe you should be forced to sacrifice quality and durability for lower cost. That's why when you purchase any Sutphen custom fire apparatus you get the highest quality heavy-duty custom truck available, no matter what. From our limited option program trucks, to our most complex Industrial Aerials, and everything in between, Sutphen is heavy-duty all the time.

Featured Demo Apparatus
"I want to commend Drew and Julie for their leadership and commitment to our continued success.  They have taken the products and company to new heights. I am very proud of them and I know that the company and name 'Sutphen Fire Apparatus' are in good hands for many years"
– Thomas C. Sutphen 1925-2015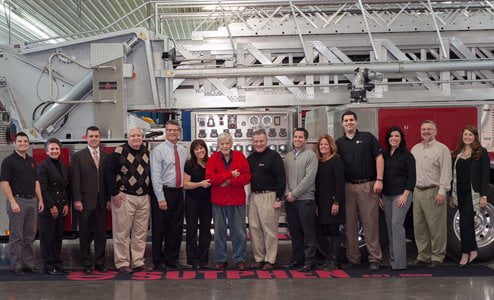 Deliveries
Latest News
Sutphen Corporation displays new Tractor Drawn Aerial in FDIC Booth #3324 Press Release – Sutphen Corporation  DUBLIN, OHIO – Today, Sutphen Corporation, the largest family-owned fire apparatus manufacturer in the nation, officially unveils its new tractor drawn aerial. The Sutphen SLTDA 105, on display in Sutphen Booth #3324 at FDIC International, adds to Sutphen's dynamic […]
Events
Memphis, TN | May 15-19 Join Sutphen as they attend The Metro Fire Chiefs Conference in Memphis, TN from May 15-19 2022. Dealers, representatives, and trucks will be on site so be sure to stop by. Ask us questions, start an order or just stop to see why you should buy a Sutphen. We are […]
Harrisburg, PA | May 20-21 Sutphen will attended the Lancaster County Firemen's Association's PA Fire Expo. Join Sutphen experts and representatives at this year's show to learn about the Sutphen experience, history and products! Event Website 
Caring for Yours
We truly have a passion for the fire industry, and we care about those who serve.  It is our duty to build the safest and best apparatus on the market to ensure that you make it home to your loved ones at the end of your shift.
Jobs & Careers
Experience the pride and passion that come with serving first responders each and every day. We are currently hiring at Sutphen facilities in Dublin, Urbana and Hilliard, Ohio, as well as our Lake Ariel, PA, location. Click below to apply today!
A Valued Heritage
As we reflect on the past 132 years, Sutphen looks forward to an exciting future of continued growth and change within the fire service. We are proud to remain Strong, Stable, and Committed to the Fire Service Since 1890.