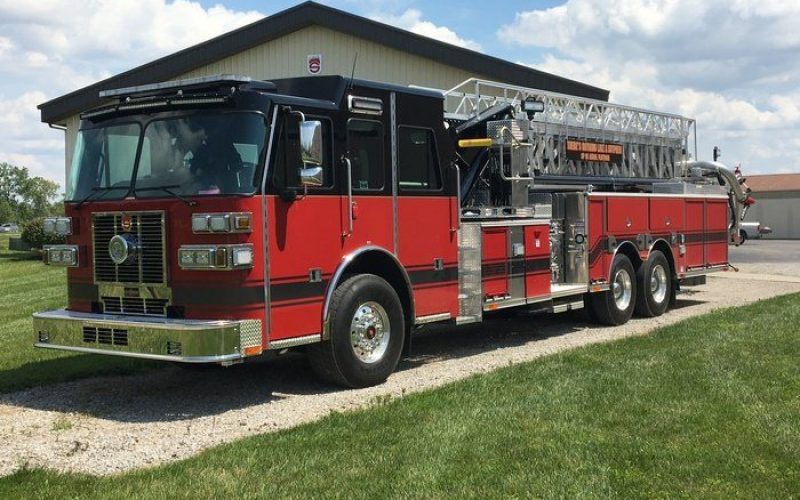 More Trucks
The Sutphen SP95 features a 93′ 7″ vertical reach, and the SP100 a full 100′.  Both models have 1000 lbs. dry and 500 lbs. wet tip load capacities.  As with every Sutphen Platform, the SP95 and SP100 have a 3:1 safety design ratio, #6061-T6 aluminum box boom construction, and includes a 2-year aerial device mechanical warranty and a 30-year aerial device structural warranty.
These models have proven to be the reliable work horses of every department in which they have served. With rock solid hydraulic controls combined with state-of-the-art electronics, these aerial platforms provide years of service even in the harshest conditions.
Heavy Duty Cab Interior:  Cab interiors are well appointed and very durable.  Stainless steel door panels are standard, and heavy duty Durawear material covers the headliner and back wall.  Bostrom Secure-All ABTS SCBA seats Durawear covered seats are standard.
Superior Driving Visibility:  With no platform hanging over the top of the cab, your visibility is much greater.  With the Mid-Mount design, there is nothing to block your view of busy intersections, street corner signs, or traffic lights.
Additional Features:
The single outrigger system allows for easy setup in tight spaces.
Mid-Mount design for safety, stability and low center of gravity.
Box boom design and aircraft style HuckBolt construction. No welds that can break. Super strength, super performance, 3:1 safety factor.
Top-of-the-line heavy duty stainless steel bolted body construction.
Up to 279 cu. Ft of compartment space.
More effective reach over the cab than any other aerial in the industry.
Dual monitors standard.
Lightest overall weight.
Full tilt, 6 Up to 10 man Cabs.
1,000 lb. tip load.
1,500 GPM flow rate.
CHASSIS:               
Monarch 56", 62", 73" cab options with flat, 10" half, or 15" half raised roof options
Front Axle and Suspension up to 25,500 lbs.
Rear Axle and Suspension up to 48,000 lbs.
12" bumper standard, optional 6", 18", 24", or 30" extension options.  Optional steel or steel channel, painted bumper
Engine Options:  Cummins ISL 9 400 or 450HP,

or

Cummins ISX

0 450 or 500HP

12L 425, 450, or 500HP, or Cummins ISX 15L 600HP.
Transmission:  Allison Gen 5 EVS 3000 or EVS 4000 (dependent on engine)
Point-to-Point or Multiplex wiring systems
Diamond Plate Cab Roof (standard 36" x 59")
Standard 252" Wheelbase (with 56" cab)
PUMP:   
Hale, Waterous, or No pump/no tank option, 1500 to 2000 gpm
Standard Pump Equipment:  (2) 6" main suction, (2) 2.5" discharges left, (1) 2.5" discharge right, (2) 5" crosslay, (1) 3" tank to pump, and (1) 1.5" tank fill
Black vinyl, brushed, or mirrored finish stainless pump panel
Up to 500 gallon poly water tanks
BODY:
#304 Stainless Steel bolted body, Huck bolted to the chassis frame
(6) body configurations to choose from
Up to 279 ft. of useable compartment space
Roll up doors or hinged doors offered in painted or non-painted satin finish
Alco-Lite or Duo-Safety ladders, aerial and ISO compliant
AERIAL LADDER:
4-section ladder
(2) 1000 GPM monitors/nozzles, one each side of the platform
4500 psi breathing air to the platform
120 volt outlet in the platform
ADDITIONAL OPTIONS:
EMS/storage cabinet options in the cab
Hose storage, front suction, front discharge options in the bumper
Multiple pump inlet, discharge, and crosslay options
Foam system options
Generator options up to 30 kw
Numerous electrical and scene lighting options