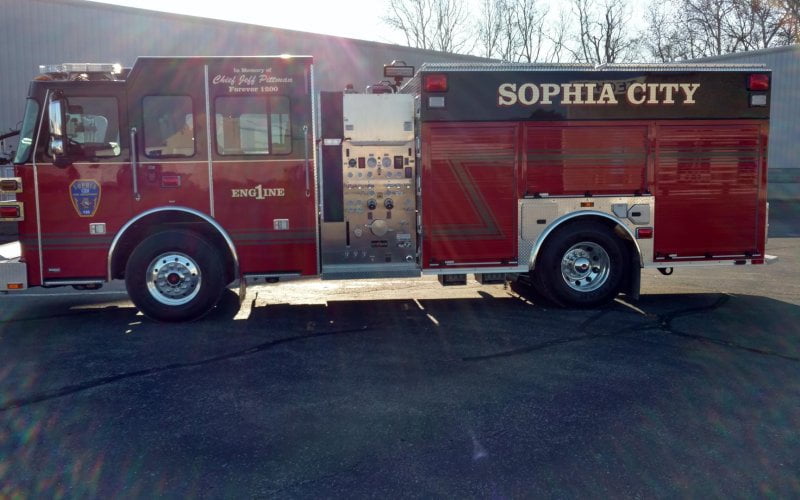 Delivery Date:
11/01/2017
Department Name:
Sophia Volunteer Fire Department
Department City / State:
Sophia, WV
WHEEL BASE:  185″
TRAVEL HEIGHT: 9′-9"
TRAVEL LENGTH: 31′-4″
CHASSIS:              Sutphen 62" extended cab with half 10" raised roof
Four-Door, Six-Person Cab
Front Axle and Suspension: 20,000 Lbs.
Rear Axle and Suspension: 27,000 Lbs.
Engine: Cummins ISL 9 450HP
Alternator: Leece Neville 320 AMP
Transmission: Allison Gen 5
PUMP:                  Hale
XS QMAX 1500 GPM Single Stage
Discharge: (2) 2.5″ Left, (2) 2.5″ Right, 2.5″ Left Rear, 1.5″ Front Bumper, 2″ Plumbing, 3″ Deck Gun Discharge
1000 Gallon Water Tank
BODY:                   Sutphen
Aluminum
270 cu. ft. Total Compartment Space
Alco-Lite PEL-24
OPTIONAL EQUIPMENT:
Scene Lights, Whelen
Federal Q2B
18" Bumper Extension
Camera System, Safety Vision SV-CLCDO-70
Ziamatic SAC-44 Folding Wheel Chocks MTD with SQCH-44H Holders.